Needham Education Foundation Spring Small Grant Deadline March 19th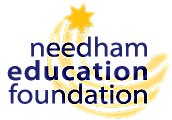 From the Needham Education Foundation (NEF) website:
Possibilities can become reality though funding from NEF. NEF encourages Needham public school educators, administrators, and community members—including students and parents—to apply.

Small Grants ~ up to $5,000
NEF's Small Grants support programs that are smaller in scope and are not required to provide broad and lasting impact. They are typically onetime programs that can benefit multiple schools, an entire school, or a specific population within the system. NEF has two Small Grant cycles and typically funds between 20 and 40 Small Grants each year.

Spring Small Grant Application Deadline: March 19th, 2015
Spring Small Grant Awards: April (for use the following school year)
For more information, go to www.nefneedham.org/grants/apply/ or contact Nancy Berger at nberger@nefneedham.org or Ken Lundberg at klundberg@nefneedham.org.