2015 – The Year of the Goat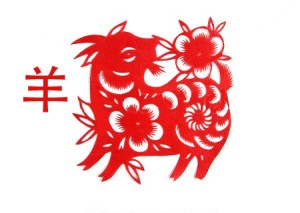 From the Chinese Friends of Needham website:
2015 is the Year of the Goat! If you will be turning 12, 24, 36, 48, 60, etc. then this year will be your year!

Lucky Objects:
Numbers-2, 7
Colors-Green, Red, and Purple
Flowers-Carnation, Primrose

People born in the year of the Goat are typically imaginative. They usually have many friends and are caring, courteous, intelligent, and sympathetic. They have a lot of faith and like art and beauty.

Fun Fact: Famous people born in the year of the goat include: 唐太宗, 岳飞, Zhang Ziyi (章子怡), Joe Chen (陈乔恩), Frida Kahlo, Julia Roberts, Mark Twain, Michelangelo, and Philip Seymour Hoffman.
If you have any questions or wish to participate in Chinese Friends of Needham, please contact Jenny Gao at chunhong_gao@hotmail.com