Seeking Talented Performers for 2014 Needham Lights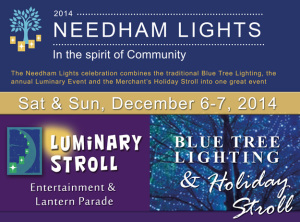 From the Needham website:
Help us make the first joint Needham Lights hosted by the Needham Merchants Association (sponsoring its annual stroll), the Needham Business Association (sponsoring its annual Blue Tree Lighting), and the Community Center of Needham (sponsoring its annual entertainment and luminary parade) a success on Saturday December 6th from 12:00 p.m. to 8:00 p.m. These organizations are looking for talented individuals and groups to perform throughout the event to make the downtown a festive event for the entire community. So we are calling all strolling carolers, holiday cartoon characters, historic figures, balloon artists, bell ringers, street performers, elves, a cappella groups, musicians, mimes, actors, dancers, minstrels, choirs and singers. Stroll outside or perform at Town Hall. We need your help to make it a special day.

To volunteer, please email Devra G. Bailin at dbailin@needhamma.gov or call her at 781-455-7550 ext. 213. Let us know what entertainment you want to provide AND when you're available to perform.
For more information about the Luminary Stroll, go to www.luminarystroll.org.