Needham, MA: Hurricane Sandy is Almost Here…Now What?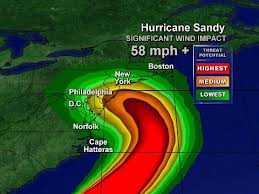 By now, most people have prepared for Hurricane Sandy, and are now waiting for the storm to blow over. Want to check on other things you should be doing right now? FEMA (The Federal Emergency Management Agency) offers great advice.
Listen to the radio or TV for information.
Secure your home, close storm shutters and secure outdoor objects or bring them indoors.
Turn off utilities if instructed to do so. Otherwise, turn the refrigerator thermostat to its coldest setting and keep its doors closed.
Turn off propane tanks
Avoid using the phone, except for serious emergencies.
Ensure a supply of water for sanitary purpose such as cleaning and flushing toilets. Fill the bathtub and other larger containers with water.
Be sure your car has a full tank of gas.
Charge cell phones, laptops, and other electronic equipment.
Stay indoors during the hurricane and away from windows and glass doors.
Close all interior doors – secure and brace external doors.
Keep curtains and blinds closed. Do not be fooled if there is a lull; it could be the eye of the storm – winds will pick up again.
Take refuge in a small interior room, closet or hallway on the lowest level.
Avoid elevators.
Review emergency plans with family members and make sure they all have access to the emergency supply kit.
GDE Error: Unable to load requested profile.
For more information, go to the FEMA website:http://www.ready.gov/hurricanes. You can also follow FEMA on twitter: @FEMAregion1
In case of emergency for Needham residents, here are some emergency phone numbers (from the Needham, MA website):
Safety

Any Emergency: Dial 911
Non-Emergency Fire Dept: (781) 444-0142
Non-Emergency Police Dept: (781) 444-1212
LEPC (Local Emergency Planning Committee: (781) 455-7523 and (781) 455-7580

Health

Needham Health Department: (781) 455-7523
Beth Israel Deaconess Hospital Needham Campus: (781) 453-3000
Mental Health Hotline: (781) 769-8674

Utility

Verizon: 1 (781) 555-1611
RCN: 1 (800) 746-4726
Comcast: 1 (888) 633-4266
NSTAR Gas: 1 (800) 577-9300
NSTAR Electric: 1 (800) 592-2000

Shelter: Needham High School
Stay safe, everyone!