Needham, MA Honors Olympic Gymnast Aly Raisman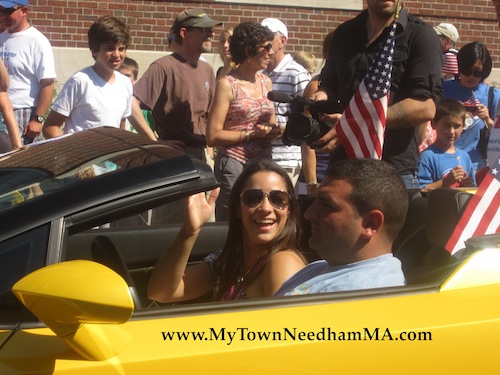 The Town of Needham honored gold medal winning Olympic gymnast Aly Raisman yesterday, August 26th, with a parade and rally. The parade started at town hall and ended at Memorial Park. The celebration featured young gymnasts, musicians, cheerleaders, local veterans, an honor guard, Girl Scouts, Boy Scouts, and former Olympians and Paralympian who've made Needham their home. Aly Raisman sat in a yellow Lamborghini, and waved to her cheering fans.
At Memorial Park, there were performances, and officials spoke and presented Raisman with gifts. There was even a giant cake! The town surprised Raisman with the proclamation of August 26, 2012 as Aly Raisman Day in Needham. She was also sworn in as a Deputy Sheriff by Norfolk County Commissioner Francis O'Brien. This has been an exciting day for Needham locals. Aly Raisman is an inspiration for many. This is a day many people, especially the Needham youth, will remember for a very long time.