NEF Announces Start of Registration for The Annual Spelling Bee 2016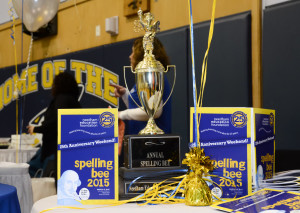 The Needham Educational foundation has just announced that the registration for the annual Spelling Bee is open. The event will be held at the Needham High Gym on Sunday, March 13, 2016, at 3 p.m.
Among those who will be competing are teams of students, educators, local officials and politicians, businessmen as well as other members of the community. Some of whom will be declared as the top spellers for Needham.
Quoting a press release from NEF reads, "Please join in the fun and show your support of the NEF by forming your own team! Get together with a few friends from your neighborhood, book club, or poker group and spell your way to victory!"
An elementary school round will be featured in this years' event, so students of all ages are encouraged to join the fun and excitement.
The Spelling Bee benefits the NEF and the numerous enrichment programs it sponsors for Needham schools.
You can get more information or register at the NEF website by following the link below. A study guide is also provided in their page.