Wellesley Books Presents YA Authors Edith Pattou and Ammi-Joan Paquette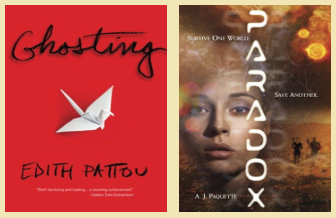 From the Wellesley Books website:
Join us for an evening with young adult authors Edith Pattou & Ammi-Joan Paquette as they discuss their most recent books.


A high school teenage prank goes horrifically awry in Edith Pattou's latest novel Ghosting. Told through multiple points of view in naturalistic free verse and stream of consciousness, this is an unforgettable, haunting tale. 

In Ammi-Joan Paquette's Paradox, Ana wakes up on Paradox with surgical retrograde amnesia and a note telling her to experience, discover, and survive. This sci-fi adventure has a surprise twist ending that no one will see coming. 

ABOUT THE AUTHORS
Edith Pattou has found acclaim as a writer in middle-grade fantasy with such award-winning books as East, which received starred reviews in Booklist and School Library Journal; was selected as a Top Ten Book for YA and an American Library Association Notable BooK.

Ammi-Joan (A.J.) Paquette was a voracious reader since early childhood, she's thrilled to now be able to share her stories with readers everywhere. She lives outside of Boston, Massachusetts, where she balances her own writing and her day job as a literary agent. Visit her on the web at www.ajpaquette.com.
Thursday, November 13, 2014
7pm
Wellesley Books
82 Central Street
Wellesley, MA 02482