High Rock-Pollard PTC's Modell's Team Weeks Discount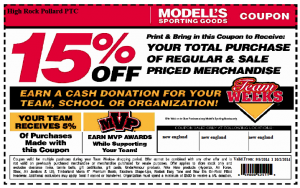 The High Rock-Pollard PTC is participating in the Modell's Team Weeks Program. Here's the link to a coupon that you can print out and use as many times as you need between the dates of September 5 – October 2, 2014.
This coupon will give you:
15% discount off of all regular and sale price merchandise;
Receive 5% back of purchases made during your "Team Week" shopping period;
Earn MVP points while supporting your team.
Modell's Sporting Goods is located:
210 Needham Street, Newton, MA
(617) 965-4839