Thank You to The Needham Exchange Club for a Great Fourth of July Celebration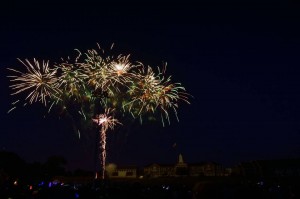 Thanks to The Needham Exchange Club, Needham residents had a wonderful Fourth of July celebration. Did you know The Needham Exchange Club organizes the Grand Parade, the incredible fireworks display, and other Fourth of July activities?
Here's some information from their website:
The Needham Exchange Club would like to thank the residents of town for a great Fourth of July celebration!

In spite of all the predictions, the weather cooperated and we hope everyone enjoyed the spectacular Fireworks display, the Grand Parade, the Pie Eating Contest, the Flea Market, and all the other great events. We appreciate the support and enthusiasm of the community for this event. We were thrilled by the crowds that turned out at the fireworks on the 3rd and along the parade route on the 4th in spite of the threat of rain. We thank you for your generosity.

Memorial Park was a perfect venue for the celebration and the Exchange Club thanks the Memorial Park Trustees for the use of their beautiful park. The Needham Police and Fire departments did a terrific job as always and we thank them. We couldn't have done it without the tremendous efforts of the Department of Public Works.
If you'd like to donate to this special town tradition, go to The Needham Exchange Club website: http://www.needhamexchangeclub.org/content.aspx?page_id=22&club_id=647136&module_id=76188.