North Hill Named One of Best Nursing Homes in the Country by U.S. News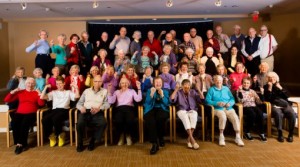 The Skilled Nursing Facility at North Hill, a leading Boston-area continuing care retirement community, has been named one of the nation's Best Nursing Homes by U.S. News.
U.S. News' annual look at nursing homes, www.health.usnews.com/best-nursing-homes, presents data from Nursing Home Compare, a website run by the federal Centers for Medicare & Medicaid Services. Of the 16,000 nursing homes reviewed, North Hill's skilled nursing facility was one of only 3,036 to earn an overall rating of five stars.
Star ratings are determined by several elements, including nurse staffing. U.S. News reported that seniors at North Hill receive an average of 5 hours, 7 minutes per day of skilled nursing care, compared to the national average of 4 hours, 6 minutes.
North Hill also received five stars for a wide range quality measures. At North Hill, for example, residents are less likely to experience depressive symptoms and less likely to be treated with antipsychotics or restraints.
Health Center Administrator Adam Goldman says this is due to North Hill's unique PurposeFULL Living philosophy and its commitment to innovation.
"To make agitated patients more comfortable, we're using music instead of medicine, through an exciting new personalized iPod program," said Goldman, "and all of our community members are given opportunities to pursue their passions and interests through PurposeFULL Living. While we're proud of the five-star rating, we're more proud of the quality of life it represents."
Goldman noted that North Hill is currently constructing a brand-new skilled nursing facility, based on an innovative "small house" model of care. Details can be found at www.NorthHill.org/innovations-in-health. The new buildings will be located on North Hill's campus on the Needham / Wellesley (Massachusetts) town line.
"An estimated 3.3 million Americans will live in the nation's nearly 16,000 nursing homes … That number translates to 1 in 7 people ages 65 and up, and more than 1 in 5 of those 85 and older. They and their families will want and need a way to find a source of the best possible care," Avery Comarow wrote on the U.S. News website.
North Hill's Best Nursing Homes profile can be found at http://health.usnews.com/best-nursing-homes/area/ma/skilled-nursing-facility-at-north-hill-225281.
CONTACT:
Erin Read Ruddick 401-289-2500
erin@creatingresults.com