Needham's Art in Bloom: March 7 – 9 , 2014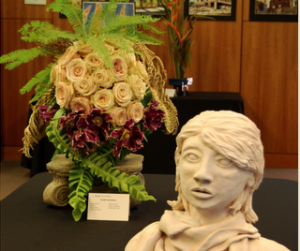 FOR IMMEDIATE RELEASE:
Needham, MA — Beth Shalom Garden Club and the Needham High School Fine Arts Department proudly announce Needham's Art in Bloom 2014 will be held during the weekend of March 7th,  8th, and 9th at multiple locations in town. Beth Shalom Garden Club co-chair Sue Kaplan expressed, "It really appeals to everyone – art lovers, flower lovers, seniors, students, couples, families with young children…everyone!"  This free, multi-generational exhibit will feature mixed media high school student artwork with floral interpretations designed by members of the Beth Shalom Garden Club. This year's event has been generously sponsored by Roche Bros.
Needham's Art in Bloom was modeled after the annual springtime exhibit Art in Bloom presented by the Museum of Fine Arts, in Boston. Beth Shalom Garden Club's goal was to organize a community event that would engage people of all ages, interests, and life experiences. In June 2010, the Garden Club Federation of MA, Inc. awarded the state's SPECIAL ACHIEVEMENT AWARD to Beth Shalom Garden Club for it's successful creation and execution of Needham's Art in Bloom.The exhibit, now in it's sixth year has become a well-received annual event. Last year, over a thousand people filled the Needham Public Library during the weekend long exhibit.
Needham resident, Jean H. was truly captivated after viewing the art and flowers. She described the sentiments of many visitors in the guest book: "What a wonderful demonstration of the talent in Needham. The student's work is impressive and thought provoking. The floral demonstrations are beautifully creative and inspiring. This is a lovely example of informal education combined with community spirit. Thank you!"
Spectators can get "a taste" of a few pieces of Needham's Art in Bloom exhibit that will be on display in Town Hall on Friday, March 7th from 12 – 4pm, as well as the new Needham Senior Center and the Needham High School lobby. The entire exhibit will be on display at the Needham Public library as follows: Saturday, March 8th from 9:00am to 5:00pm and on Sunday, March 9th from 1:00pm to 4:00pm.