March is "Needham Unplugged" Month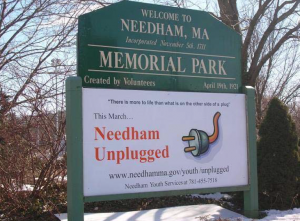 From Needham Unplugged:
"Needham Unplugged" is a month-long awareness campaign in March to remind Needham families and residents to "unplug their electronics" and "plug into" each other. It is a reminder that there is more to life than texts, Tweets, video games and YouTube.

The highlight of this year's program will be a no-homework, no-sports, and no-activities night for Needham Public School Students on March 13, 2014. Parents can play their part on March 13th by getting home from work no later than dinnertime, canceling/rescheduling any night meetings, and making this night a special time for the entire family. In addition, there will be no town-related meetings and virtually no community, school, or religious meetings held on that night. We will also celebrate Social Networking-Free Thursday on March 6th, Phone-Free Friday on March 7th, E-Mail-Free Friday on March 14th, and Text-Free Tuesday on March 25th .

For more information about Needham Unplugged please contact Needham Youth Services at 781-455-7500, stop in at our office, or visit our website to learn about the exciting month of unplugged events at www.needhamma.gov/index.aspx?nid=113.