A Song For Ryan: Plugged In Band's Benefit for SUDC Research and Advocacy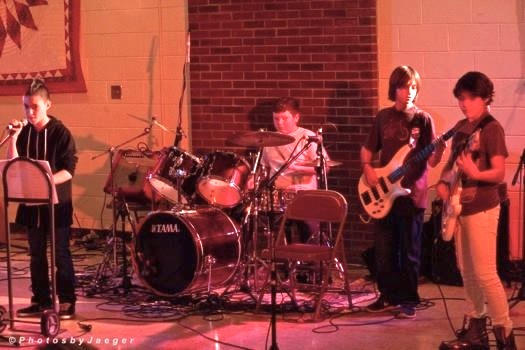 You're Invited to
Plugged In Band's Benefit for SUDC Research and Advocacy
Friday January 17 from 6:00pm to 11:00pm
Saturday January 18 from 6:00pm to 11:00pm
Sunday January 19 from 6:00pm to 10:00pm
Powers Hall – Needham Town Hall
1471 Highland Avenue
Needham, MA 02492
Tickets are sold at the door only.
$5.00 for students, $10.00 for seniors and $15.00 for adults (cash or check)
CD's and T-Shirts will be available at the show. All proceeds from merchandise sales go to the Ryan Mancini Charitable Foundation.
_______________________________________________________________________
At the start of every session students are introduced to the charitable mission of Plugged In. Students are encouraged to present a charity that they feel deserves to be recognized for the special work they do. The Plugged In community then votes on these charities. The winner becomes the focus of each session's Benefit Concert.
As always this session the Plugged In students presented many worthy charities. This session the youth have chosen a very important cause with a personal connection. This session's concert will benefit the Ryan Mancini Charitable Foundation.
The Ryan Mancini Charitable Foundation (RMCF) is a charitable foundation created to support SUDC research and advocacy. Founded after the passing of Ryan Mancini a vibrant 1 year-old lost to SUDC in December of 2009, the RMCF collects and distributes funds specifically for SUDC research and advocacy. The Mancini family has taken this tragedy and used it to inform a life's mission to ensure that SUDC is researched, treated, and some day prevented entirely.
SUDC (Sudden Unexplained Death in Childhood) is the sudden and unexpected death of a child over the age of twelve months, which remains unexplained after a thorough case investigation, is conducted. Similar to SIDS (Sudden Infant Death Syndrome), SUDC is a diagnosis of exclusion – given when all known and possible causes of death have been ruled out. Presently, SUDC cannot be predicted and/or prevented since its cause is unknown. Researchers are working to identify the cause(s) and risk(s) of SUDC, but need the funds to do so. SUDC is rare and much of the public is unaware of it, so there is little public funding for this research.