VOTE for USA Today's 'Best Rivalry' Contest : Needham vs. Wellesley Football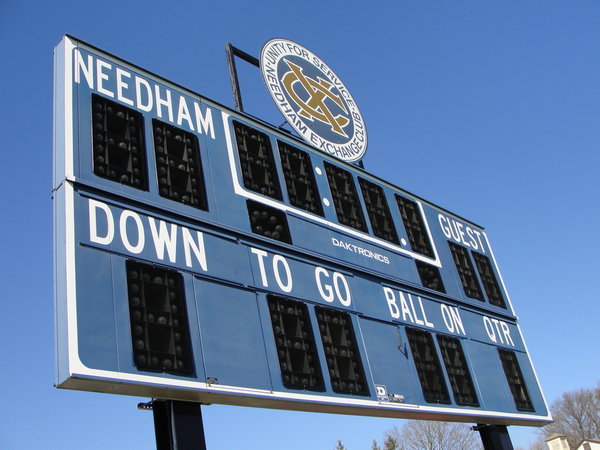 Did you know Needham and Wellesley have the "Oldest Public School Rivalry?" This Thanksgiving, Needham hosts Wellesley in the 125th annual Thanksgiving game. This historic football rivalry starts at 10:00am on Memorial Field. Tickets for the game are $10.00.
If you're not familiar with the rivalry….Arthur J. Oldham, the captain in the informal football team at Wellesley's Gamaliel Bradford High School challenged Needham High School to a game. On November 30, 1882: the game that started the longest oldest public school football rivalry began.
In the early years, when footballs cost $3.50 and considered a fortune, and there was no such thing as school financing of sporting events, funds were raised by the families. Still, the Needham vs. Wellesley Thanksgiving football game became an annual event. It wasn't until 1923, that athletics became part of the school department.
For more information about this rivalry, go here.
Do you enjoy the Needham vs. Wellesley match-ups? Here's your chance to vote on USA Today's "Best Rivalry" contest. Vote for Needham vs. Wellesley, and the two districts have a chance to win $10,000 in the national championship. Go on. Vote!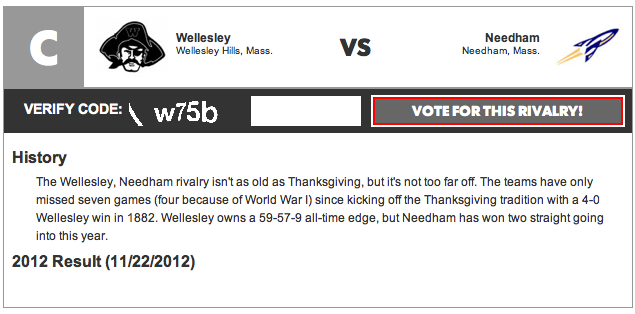 Happy Thanksgiving!