Share Ideas and Inspire with TEDxBeaconStreet November 17 – 18, 2012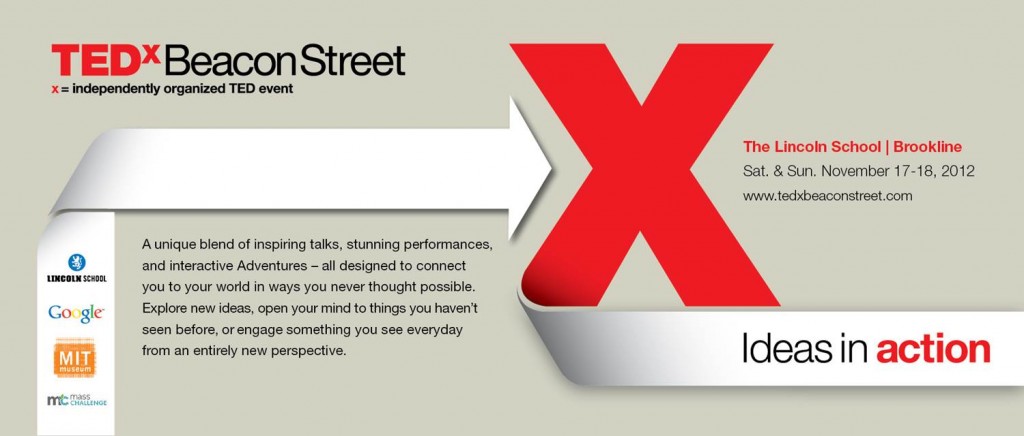 If you're familiar with TED Talks, you know how inspiring they can be. People from all industries  and experiences, come together and share their challenges, their insights, their wisdom, to empower the audience to strive for more. Well, this weekend, November 17 – 18, 2012, TEDxBeaconStreet, an independently organized TED event, is coming right around the corner.
According to the TEDxBeaconStreet website, TEDxBeaconStreet is an exciting new conference set to take place in the Greater Boston area beginning this weekend and continuing for the next year, with a focus on fascinating speakers, captivating Adventures, and a cross-generational audience, all in the service of Ideas In Action. There is no cost to attend the events.
If you'd like to take a look at the schedule, go to http://tedxbeaconstreet.com/schedule/
There is even a TEDxYouth program, geared toward Grades 2 – 8, and featuring speakers who will be sure to inspire and empower.
Youth Program
Date: Saturday, November 17, 2012
Time: Talks 8:30 AM – 1 PM | Experiences 1 – 3:30 PM
Where: Lincoln School, Brookline, MA
Cost: FREE
For registration details, GO HERE.