Save 15% Off at Modell's Sporting Goods, Help High Rock Pollard PTC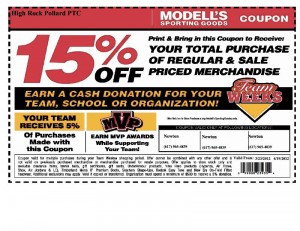 Need to buy new sports equipment? Save money and help the High Rock Pollard PTC at the same time. Everyone can win.
Print the coupon and use it to save 15% off your total purchase of regular and sale priced merchandise at Modell's Sporting Goods, 210 Needham Street, Newton, MA. The coupon is valid until April 19, 2o12. Questions? Call Modell's at (617) 965-4839.