In the Know: Beautiful Painted Kitchen Cabinets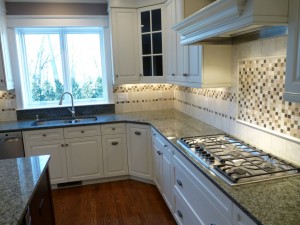 Recently, I was discussing some new construction house plans with a builder I work with to market his new construction luxury houses. We talked about what buyers want most in a new home today. It seems preferences are changing all the time. For instance, kitchens were once most popularly dressed in cabinets of natural woods such as maple, birch and cherry. Now they've been recently replaced with trendy painted cabinets.
The traditional rich look of wood has been softened with paint color. Perhaps, a nice idea and an original look, but not complete without a great deal of added expense to put together.  Natural wood, such as maple, must first be used to build out the kitchen cabinets. Then, the process of finish adds several additional steps.
Normally, natural wood has a finish applied to accent the richness of the wood or capture a particular accent of the wood by a glaze application. In order to introduce a painted color, the grain of the wood must first be eliminated, replaced with a solid color, and then treated with a finish. This triple effort is sure to increase the price.
If you're looking for kitchen cabinets, be sure to ask about the materials and process. The more you know, the better choices you'll make when designing your dream kitchen.