The Needham Clergy Association Presents…the Revels Repertory Company in THERE's a MEETING HERE TONIGHT!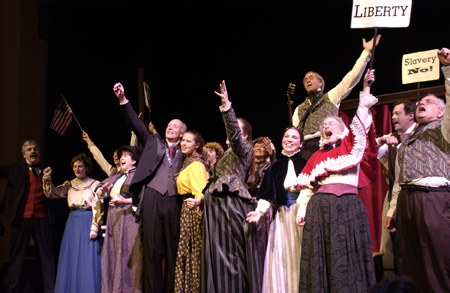 The Needham Clergy Association proudly presents Revels Repertory Company in There's a Meeting Here Tonight!
Saturday, March 5, 2011 at 7:30pm
Pollard Middle School, Needham
Tickets: $5 adults, children under 12 FREE
FOR IMMEDIATE RELEASE: The Hutchinson Family Singers are coming to town in a new program presented by Revels Repertory Company. Although there were many traveling troupes of family singers during the 19th century, none was as well known as the Hutchinson Family Singers. They sang in theaters, churches, schools – even on the street. Programs featured songs about important issues of the day such as Emancipation, Suffrage and Temperance by America's earliest and best song writers as well as Hutchinson family members. The program will be presented at 7:30pm on Saturday, March 5, 2011 at Pollard Middle School, Needham.
"There's a Meeting Here Tonight!" is a staged, costumed recreation of a Hutchinson Family reunion after the Civil War where family members have gathered at the homestead in Milford, NH to celebrate their travels and experiences. P.T. Barnum, the great showman, who always wanted to present the Hutchinson Family, is invited as a guest and finally gets his chance. He brings "The Phenomenon" with him from the American Museum in New York, an amazing one man band instruments and juggler.
The original quartet consisted of four of the thirteen children of Mary and Jesse Hutchinson, all self-trained musicians. The most influential member of the quartet was Abby who joined her brothers John, Judson and Asa on the road when she was twelve years old. Some of the family members moved to Lynn, Massachusetts in 1841 and set up a store right down the street from Frederick Douglass, a recently freed slave who became one of the leading voices in the Abolitionist Movement and who inspired the Hutchinsons to join him in that cause. Douglass is also invited to the reunion where he recreates one of his famous anti-slavery speeches (originally given at Boston's Tremont Temple), sings spirituals and camp meeting songs with the family and teaches singing games to the children.
Revels Repertory Company is the touring ensemble of Revels, Inc. which presents the Christmas Revels at Sanders Theatre in Cambridge, MA each December and in nine other cities across the country. Founded by Kay Dunlap in 1997, Revels Rep was created to expand Revels' reach beyond the Boston area and has performed for museums, community concert series, festivals, coffee houses, libraries and schools throughout New England. Members include 40 adults and children who are chosen by audition and represent 20 communities in the greater Boston area. Programs are based on historic, cultural and seasonal themes.
The program is appropriate for adults and children, ages 6 and up and includes audience participation.
Web site for other information: www.revels.org/revels-repertory-co/
We're grateful to The Needham Clergy Association for bringing this wonderful program to our community.